Dear



2015 has already proven to be a great year! Jenny and I have been creating, teaching, promoting and creating some more. After two years of working together, Jenny and I are hitting our stride as a team!
---
Since our last newsletter, we have created a new book (available in both the printed and digital versions) on Tendons & Ligaments of the equine distal limb, re-worked the Distal Limb Pocket Guide and are excited to tell you that we have printed Exploring Laminitis 1 in a new format.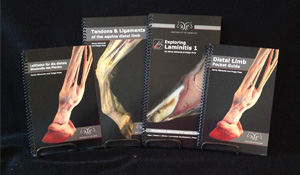 We have also added some new, informative images and information to our website and we have co-hosted a whole horse dissection clinic in Virginia.

At the conferences we have attended, we've gotten rave reviews on our new and re-worked material!

Since our aim is to produce high quality, useful material that helps to demystify the study of anatomy, we were thrilled to get such wonderful feedback.
New Tendons & Ligaments
The success and handiness of our original Hoof Anatomy Pocket Guide, led us to create an expanded, in-depth guide to the equine distal limb.




Once again, we have used high quality, full color, anatomy postcards to create a fantastic teaching tool for vets, farriers, trimmers and body workers. However, this time we opted for the jumbo (6"x11") size to give space for more detail.
This is an in-depth guide to the equine distal limb. The images have been carefully collected to visibly show the function of the structures and ease the task of explaining difficult concepts.
At both the International Hoof Care Summit and American Farriers Association Annual Conference there was a lot of excitement over this handy guide. Everyone was thrilled that the material was advanced enough to be a good study guide, yet simple enough to be used to educate clients.
This excellent photographic guide is available in both a printed version and as a digital download (eBook).

Preview the images on our website.
We have included a brief description of each and every page.
http://www.anatomy-of-the-equine.com/equine-distal-limb.html
---
Distal Limb Pocket Guide -Updated
Jenny and I have worked very hard to make our Pocket Guide a must have resource. We added two new informative pages and re-worked the layout to make it an even better teaching guide.
With the help of our friends and colleagues, the Pocket Guide has been translated into German. Thank you Gunnar Schillig, Ariane Reaves, and Heike Jung, DVM!
---
Exploring Laminitis 1 - New Printed Version
We have taken our excellent photographic book and printed it on the jumbo postcards. The images are crystal clear and carefully organized to show the devastating effects that can occur with chronic laminitis.

Images compare external, radiographic and internal dissection views of normal and chronically laminitic feet - there is so much that can be learned from these photographs.

Our intention is to help those that deal with laminitis.

I have personally found these images to be helpful when speaking to owners of laminitic horses. It is important to convey the complexity of laminitis. As a farrier, I may be dealing with unknown damage. Results may be slow or minimal and these images help the owner understand the challenges I may be up against.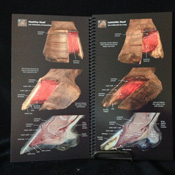 The side-by-side comparisons and the unique presentations of the hooves, allows for a deeper understanding of the mechanics.
The images are excellent for study. They will answer some questions and and create more!
Jenny and I look forward to creating more books highlighting the various distortions of laminitic hooves. http://www.anatomy-of-the-equine.com/exploring-laminitis.html
---
Dissection Clinics - Whole Horse and Hoof


In March, Paige co-hosted a Whole Horse Dissection with Ann-Marie Hancock, DVM, EDO at Rectortown Equine Clinic. The clinic was geared towards equine professionals wanting a refresher on anatomy and a chance to explore areas of interests.

Not your typical dissection. Our clinics are not just a name game. While nomenclature is important, we emphasize movement and function. Paige's technical skills at dissecting tissues cleanly and neatly paired with Ann-Marie's knowledge of anatomy leads to an exciting way to learn.

For example, naming the flexors and adductors of the hind limb is one thing, but truly understanding how they are influenced by the abdominal musculature; nerve innervation; pelvic and spinal posture and organ mobility; as well as how they influence the rotation and range of motion of the stifle and hock, is the key to appreciating functional anatomy.



---


Here is what one participant had to say:

I'm still amazed. Every textbook of equine anatomy has come to life since the Dissection Weekend. The creativity in your approach allowed for answers to both the anatomical and biomechanical questions that I've carried with me from barn to barn for the past 4 years. Thank you so much for being innovators in this underutilized field, I learned more in one weekend than I could have ever imagined. I will definitely be signing up for another.

Thanks again,

Andy Smith, DC, Equine A.R.T. practitioner

If you missed this one, we are scheduling another in late Oct. 2015. Check the website for more information and a detailed description of the format.

http://www.anatomy-of-the-equine.com/dissection-clinics.html


---


Please let us know what you think about our current products and also if there are any projects you would like to see us cover in the future.

Our driving aim is to produce high quality, useful material that helps demystify the study of anatomy and we are keen to work with professionals and owners alike to achieve this goal.

Look forward to hearing from you,

Paige & Jenny