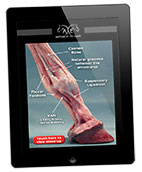 We are very excited to announce the release of our first App - Equine Digital Pulse.
This App will teach you how to monitor equine digital pulses - which are a powerful tool to help manage your horse's health.
The digital pulse provides key information with regards to the health of your horse's hooves. This is especially important for owners of Insulin Resistant or Cushing's horses.
Horse owners: discover how to take an active role in your horse's health
Hoof care professionals: great teaching tool for your clients
Equine students: delve into the anatomy in the dissection photos
The Equine Pulse ipad App:
Quickly and easily learn how and where to take your horse's pulse
Stunning, high resolution, full color dissection photos and illustrations
Easy to navigate
Explore beneath the skin to fully understand the structures
Learn the difference between a normal and bounding pulse
Clearly labeled structures
Close-up views